Oct 8, 2022
DIY Porch Wall Lantern with a Flickering Candle Bulb – Without Electricity or Gas!
This Post May Contain Affiliate Links. Please Read Our Disclosure Policy here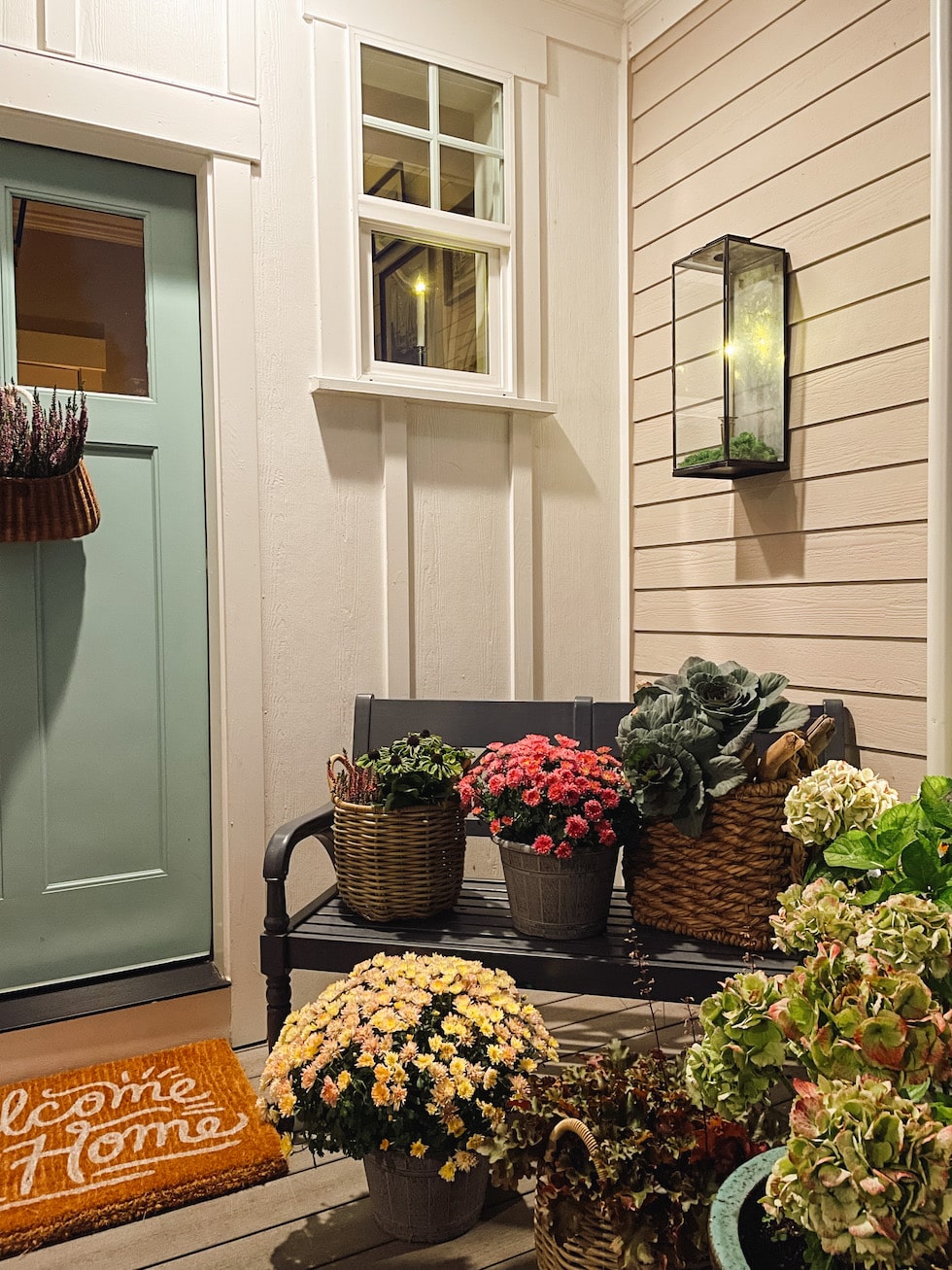 Do you ever wish you had a charming gas wall lantern for flickering candlelight on your front porch? ME TOO! I love those, but I made a more affordable and simple DIY porch wall lantern and candle that flickers without electricity or gas! I just shared about our window candle tradition in our new home and thought I'd share another cozy candle idea that I will love all fall and winter.
You might remember the wall lantern that we put up on the front porch of our last house. Perhaps you also noticed we brought it here! Well, not only is it still going to be fun to decorate in every season, but with the addition of my favorite new flickering candle, I can have the feeling of a cozy flickering gas lantern on the porch, even without wiring it in!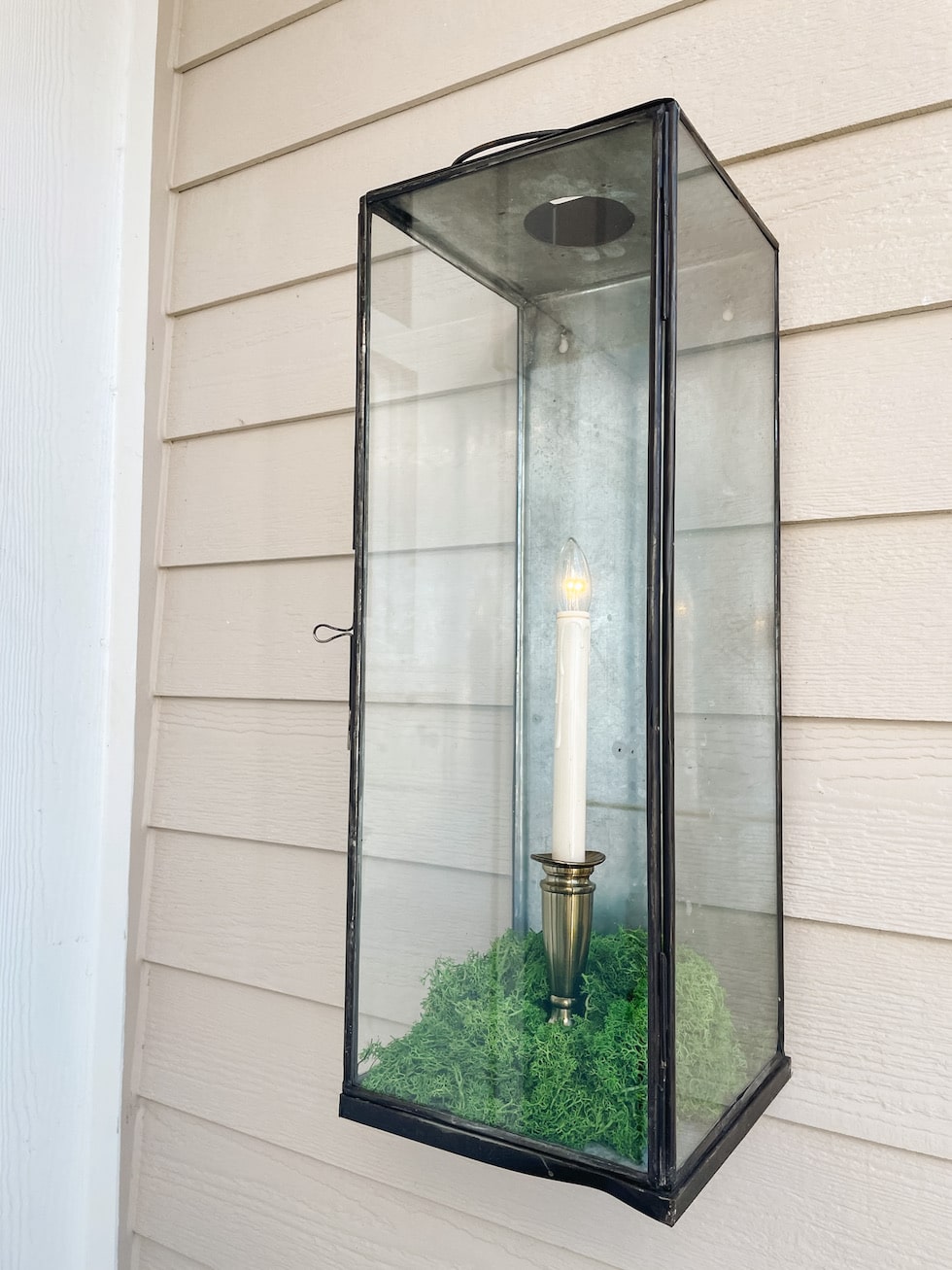 I've put regular battery operated candles like THIS in the lantern in the past. But I have to say I am so in love with the new candles I got for our windows (you can see them here) that they "sparked" this additional idea for how to use them :).
Since I've always loved the look of those flickering gas lanterns, it occurred to me that these candles with the bulb would create a nice "dupe" for that mood, with a twist! You can decorate the lantern for the season AND have the flicker of candlelight, without fear of burning up your decorations or house!
And if you don't want to decorate it, just set the candle inside. Easy peasy!
Here are the instructions:
Hang any tall wall lantern (mine isn't specifically for outdoors but it's under cover so I think it's fine). My lantern was designed to be hung on a wall, but you could also use a regular lantern and hang it on a lantern hook like this or like this. If you don't want to hang it you could also set one (or many!) on a table or bench or porch. Be sure the height of your lantern will accommodate the candle and bulb.
Decorate the inside of the lantern however you want, incorporating the candle. I just added this preserved moss this time, but you can get creative with whatever you like! For Christmas you could use evergreen boughs, eucalyptus, or pretty Christmas bulbs. It would look great without seasonal decor, too, so you don't have to add any.
Set the candle to go on at dusk before you put it inside the lantern. I recommend this candle, you can read about why I think this particular candle is so good in my post on window candles here, but it's really great for the lantern, too for the same reasons. And it looks more like a real outdoor sconce candle bulb.
Ta da! Instant curb appeal!
---
If you try this idea, I'd love to see it on social media (tag me @theinspiredroom and share it!) or post it in our free community group here.
See more of how I styled this lantern here: A Seasonal Display Lantern (+ permission for imperfections)
See my other tricks here: Light Up a Dark Corner with a Wall Sconce (No Wiring Necessary!)
More Details