Sep 14, 2022
No Linen Closet? No Worries! 3 Reasons These Shallow Underbed Storage Bags Can Help!
This Post May Contain Affiliate Links. Please Read Our Disclosure Policy here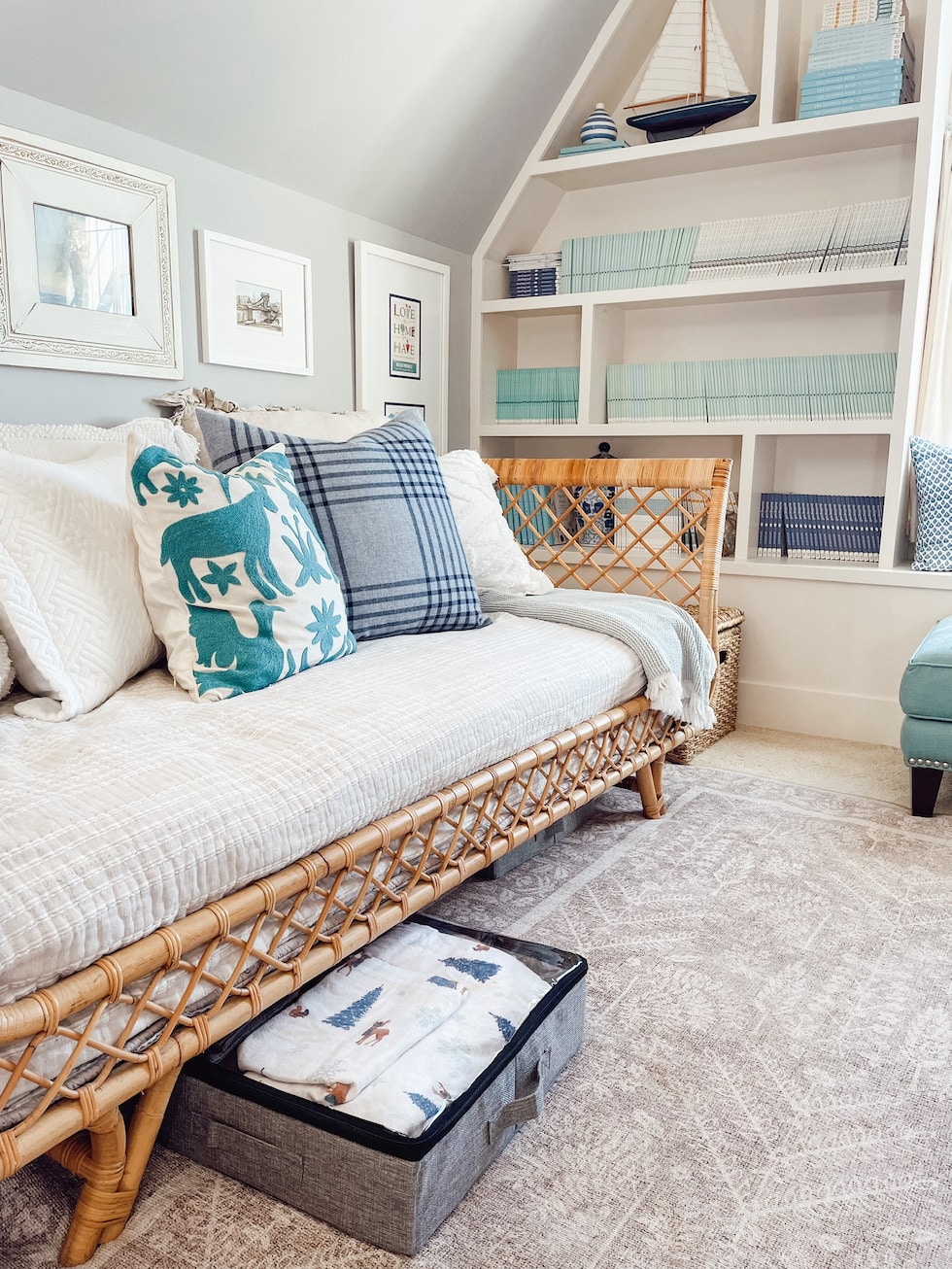 Our new shallow underbed storage bags are perfect for storing linens, seasonal items and more. Perhaps you are in need of a similar storage solution in your home! I know some people have the luxury of a dedicated linen closet in their home, but we don't! We do have closets, just not one we are able to dedicate to linens. Our main bed sheets fit in our room in a dresser, but I needed a more creative option for guest linens so I decided to look for shallow underbed storage so we could tuck them into small spaces such as beneath our rattan daybed.
Do you forget what items you store under the bed? Here's a solution!
Honestly, I haven't always preferred underbed storage as I used to forget what I put there! But I found a solution for that, so I'll share it today along with the shallow underbed storage bags I found, how we use them and three reasons why they work so well for us.
One of the organizing principles I use (and shared in my book Make Room for What You Love) is that it's usually a bit easier to remember where you put things if you 1) know you will use them (and not just clutter storage! ) 2) you group items together that are in a related category and 3) put them in a spot that makes some sort of sense to you.
So for example, if I put camping gear and Christmas serving platters under the guest bed, I probably won't remember where either of them are there months later. It wouldn't really make sense to me that they are stored together or in that spot, so it would be easier for me to forget. However, if under the bed is the only place you have for both of those items, or if you are prone to forget things you thought for sure you'd remember (as I am, ha!) you can use some system like a seasonal storage chart posted in your closet or a planner.
Three reasons I like these shallow underbed storage bags
Besides being a helpful solution for storing our guest linens, these shallow underbed storage bags work well for us for several other reasons.
The bags have fabric fronts. Even if you can see them under the bed, they don't look as unsightly like some containers do. Our double guest bed has a dust ruffle, but this one doesn't. The fabric fronts help keep it looking tidier!
Secondly, the bags are shallow enough to fit under our low daybed. Our daybed is fairly close to the ground but also has a lot of supports and leg underneath it. These tuck in perfectly to a very small space.
The third reason I really like these storage bags is they have solid side panels, which I find makes them easier to slide in and out. I have some other zippered bags which work for organizing in closets or storage rooms, but they don't hold their shape when you squish them under the bed. They also have handles which are convenient.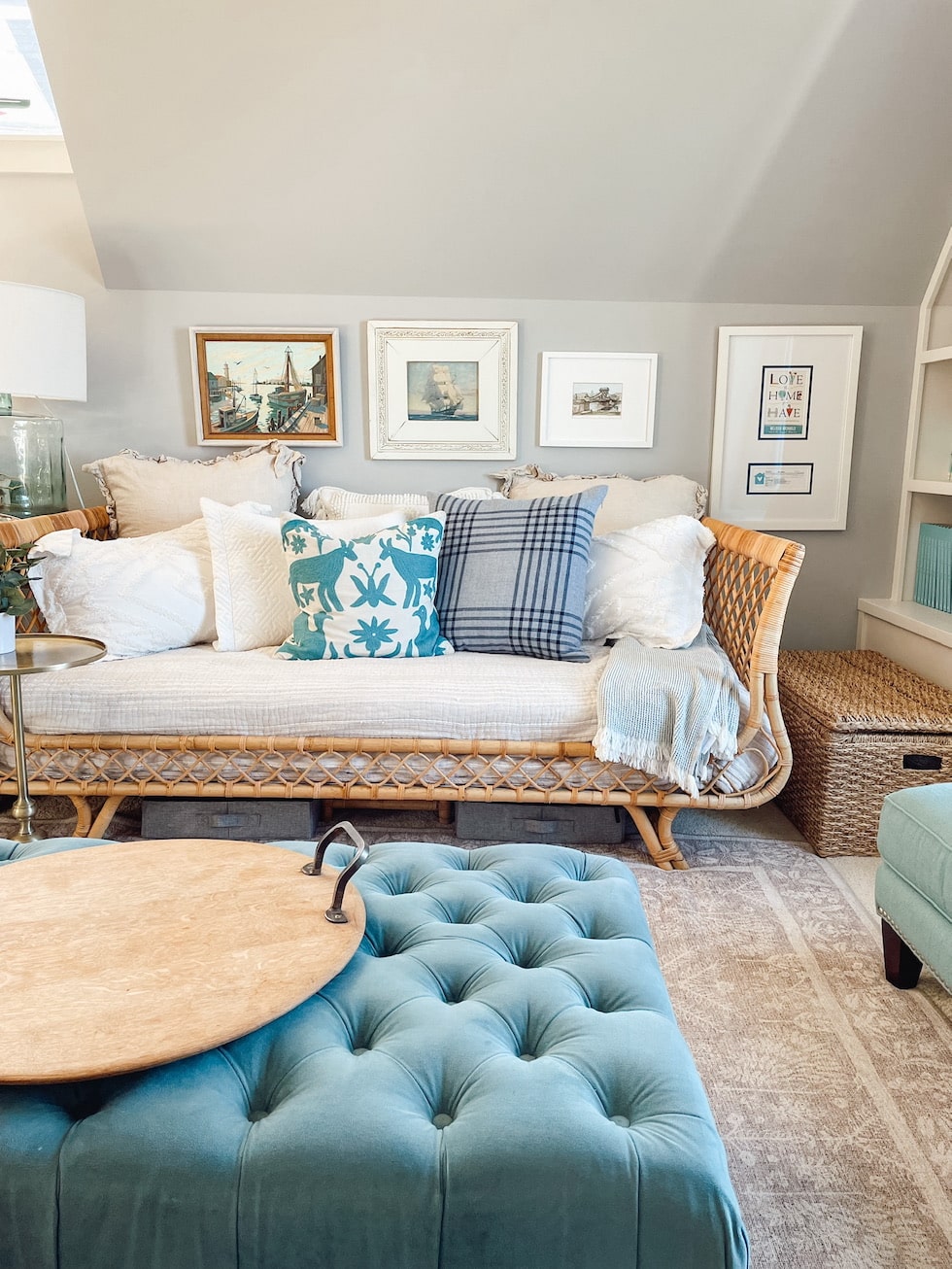 What fits in the bags under the bed?
We were able to fit two of the shallow underbed storage bags under our daybed. One is for winter twin bedding. Besides the rattan twin bed we have two REI sleeping cots that we put sheets on as well as a sofa that can be used as a bed, so we needed several sets of twin sheets. The other bag is for the more spring and summer cotton sheets and blankets. Since the available space under the daybed is so limited, we use it for sheets and thin blankets rather than bulkier items.
We put two more of these zippered bags under a double guest bed for that bed's linens and blankets as well. We could fit at least two more bags but alas, there are also slim guitars, ha! Random place for guitars perhaps, but it's our only option at this point. (My husband doesn't play these particular guitars often but they have to be in the house where it's more temperature controlled, so they can't be in a garage and we don't have room in the closets.)
Read on for where I store the bulkier bedding (such as mattress pads!)
Where I store bulkier bedding like mattress pads
The extra fluffy mattress pads we use for the cots and beds do not fit as well under beds as the sheets do, so instead we use our lidded rattan trunks. These are the trunks we have, but last I looked the price had increased significantly. If that is still the case when you read this, I have some other options to check out in my Amazon Basket Shop. Alternatives if you don't have closet space would be dressers, lidded benches at the foot of the bed, or storage ottomans (find some storage ottomans in our Amazon Small Space Shop).
Double duty for maximizing small spaces
If you have a smaller home or less storage, you have to be a little more creative with what you store as well as how you use the available space. For example, we like having the daybed in here because while it's my office, the daybed doubles as a couch for watching TV (with lots of pillows for back support) and as a spot for our college son or guests to sleep on as needed.
In a smaller home, it's ideal when furniture can be double duty. Although perhaps I should say the daybed is triple duty, since it's also become a handy storage spot for guest linens thanks to our new shallow underbed storage bags! A smaller home can be a challenge for organization, but I think getting creative with the space is a fun challenge.
I hope this post was helpful!
Related inspiration on The Inspired Room:
Small Space Storage Tips: Making Room for What You Love
How to Decorate When Your Front Door Opens Into Your Living Room
5 Clever Ways to Make a Small Space Cozy & Inviting (+ Apartment Tour)
9 Clever Organizers to Tidy Your Home
Storage Cabinets for Linens and Things
Do you make any of these common disorganization excuses? >> Kick Excuses to the Curb: Confessions on Organizing & Decluttering
Click here for all organizing inspiration posts on The Inspired Room
More Details