Oct 20, 2022
Our Christmas Decor Shop 2022 is HERE!
This Post May Contain Affiliate Links. Please Read Our Disclosure Policy here
Hi friends! Hope you're enjoying the Fall Nesting series, I sure love this time year. With 67 days until Christmas, we still have plenty of time to save the remaining weeks of fall as well as to prepare for the holidays. Yet as you know Christmas will sneak up on us faster than we think, so now is the time to think through your holiday plans.
We wanted to let you know that our annual Christmas Decor Shop is here!
If you are adding to or changing up your Christmas decor, it's definitely time to make any decisions because things are selling out so quickly these days. I started ordering a few things (just got some velvet ribbon in a teal and 'hydrangea' color, and a lovely nativity set this week!). We have downsized a lot over the years and even more since moving to our smaller beach house, but I still want our home to feel festive and special for Christmas.
We always love our "forest and sea" tradition for decorating, so it's fun to find charming new pieces to collect, too! I can't wait to share more inspiration with you.
Every year as we are planning our own Christmas decor, Courtney and I have so much fun hunting the web to find our very favorite pieces and we love to share them with you. It makes us so happy to hear you enjoy our shops and find them inspiring and helpful, too.
Take a look at the sneak peek collages below (adorable, yes?) and find more via the shop links below.
Bookmark our shops so you can find them then when it's convenient, or share the shops with your friends. We have TWO shops, one is our general Christmas decor shop (with sources from many shops) and another that is Christmas decor all from Amazon for the convenience of our Amazon shopping friends.
Shops:
The Inspired Room Christmas Shop (decor finds from lots of sources)
My Amazon Christmas and Winter Decorating Shop
Here are a few collages below of some faves…and you can see all in the shop! We will update more as we get closer but wanted you to have the first look!
Sources for above: Faux Cedar Garland // White Monogram Mugs // Capiz Shell Light Up Tree Topper // Pom Pom Stocking (See the fox and bunny? So cute!) // Felt Reindeer Ornament // Campfire Bear Felt Ornament / /White Ceramic Christmas Village Houses // Merry Christmas Red Border Doormat (only 12.99) // Woven Seagrass Tree Collar // Embroidered Tree Pillow // Green Sweater Lumbar Pillow // Patterned Tree Napkins // Green Bottlebrush Trees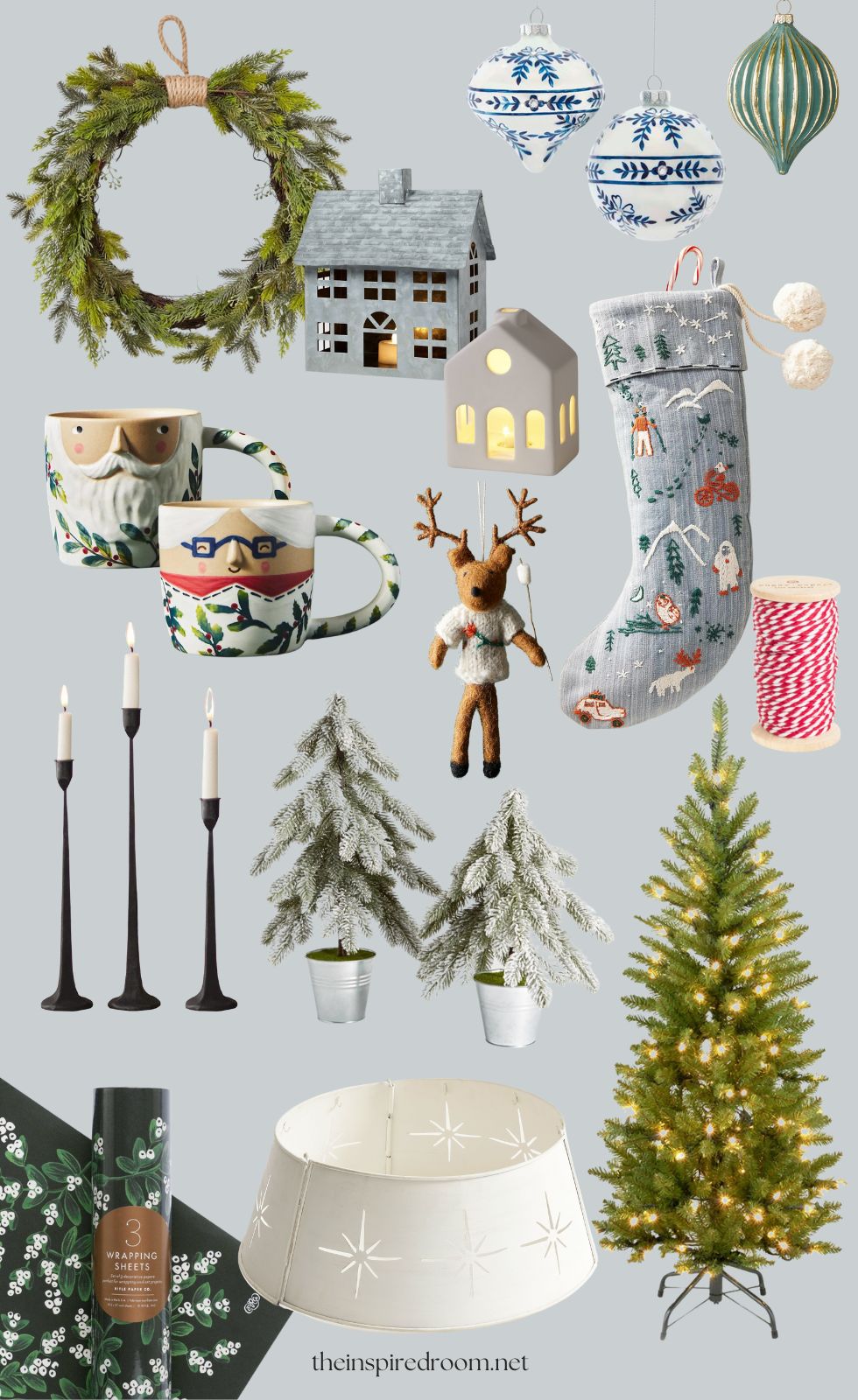 Sources for above: Evergreen Mistletoe Wrapping Sheets // Blue and White Ornaments // Teal + Gold Ornament // Mixed Greenery Artificial Wreath // Mr. Clause Mug // Mrs. Clause Mug // Galvanized House Candle Holder (only $10) // Blue Embroidered Christmas Stocking // Red and White Baker's Twine // Starburst White Metal Tree Collar // Flocked Christmas Trees in Galvanized Buckets // Campfire Deer Felt Ornament // Iron Taper Candle Holder Set // White Ceramic Decorative House (battery-operated and only $5) // Artificial Pre-Lit Slim Christmas Tree (Amazon's choice and great reviews!)
If you've already got Christmas decorating on the mind, you can see all our Christmas decorating inspiration posts and past tours here!
More nesting inspiration to come!
---
More Details