Aug 28, 2022
Rockin' Guitar Diaper Cake Baby Gift
Have you ever seen anything as adorable as this guitar diaper cake? Incredibly simple to make, it is sure to be a show stopper at any baby shower. Make it for the new mom before the baby is born or surprise them on their home arrival with this rockin' gift. It's a perfect choice for any family of musicians! A great way to bring a baby into the world rockin' before they are even born!
Guitar Diaper Cake
I have made diaper cakes in all different designs. Pretty much for anything that someone has an interest in. With a diaper cake castle, diaper cake train, and even a basic diaper cake wreath on my portfolio, I knew this was going to be easy and fun at the same time.
With this gift idea, I felt it was ideal for anyone who is into music or a musician. It can be gender-neutral or specified in classic pink and blue if desired. Whether the parents are musicians themselves or just love the sound of a good guitar solo, this is the perfect diaper cake baby gift.
Similar Projects: DIY Paper Gnome House Garden Decor
What Can I Use for the Guitar Case?
I made my case out of a combination of cardboard and tissue paper. That was easy, already on hand, and ultimately budget-friendly. Just my type of supplies for sure! When you are making the case, you want something that will wrap around the diapers and hold them into place but is flexible. This will also need to stand out as well to help give the guitar outside a clear definition. Below are a few more ideas that would work great for this gift.
Fabric in the colors or theme of the baby nursery or baby shower.
A real smaller guitar case that can be gifted to the parents as a separate gift just for them.
Wrapping paper that has been wrapped around a piece of cardboard.
A baby towel or hooded towel.
Receiving blankets, sheets, or baby blankets to be gifted to the new parents.
Wider strips of wired ribbon secured and wrapped 2-3 times around the diapers.
A hand-crocheted afghan or even nursing shawl.
What Size Diapers Should I Add to a Diaper Cake?
You can use whatever size diapers you want to make this diaper cake. When you use smaller size diapers like newborns and small, like 1 and 2s, you will need more diapers and the guitar will be smaller and thinner. If you use larger sizes, it takes fewer to complete, but the parents may not be able to use the diapers for months or even more than a year.
Similar Projects: Adorable Elephant Garden Planters Using Upcycled Bottles
For this particular one, I used a smaller sized diaper as that was most requested by the parent. You can use whatever you prefer, but I also like to add a few different sizes when possible. On this particular "cake", you could easily use a larger size on the bottom half and smaller on top.
Supplies Needed
How to Make a Guitar Diaper Cake
Measure and cut a strip of cardboard approximately 3′ tall and 3″ wide.
Cover the cardboard with tissue paper and glue into place.
On the front side of this piece, attach 6 strings/ribbons to the top and bottom with glue. This is to resemble the look of guitar strings.
Cover each end of this with a strip of ribbon to cover the ends where the string is glued.
Add a bit of removable double-sided tape to the back of a baby rattle and secure it one end of this part of the guitar.
Roll two diapers and secure with a rubber band so they are side by side.
Cut a length of the same ribbon used on the ends before and wrap around the middle of these diapers and secure with glue or staples.
Similar Projects: DIY Paper Straw Mini Christmas Tree Ornaments
Use another piece of double-sided tape on the opposite end of the neck of the guitar and attach the diapers to look like the end of a guitar.
Add additional decorations to this if desired.
On a large piece of cardboard, trace and cut the shape of a body of a guitar.
Wrap this in tissue paper and secure with glue or tape.
On the top of the body of the guitar, attach the removable double-side tape in strips so there are 4-5 strips running from top to bottom of the entire guitar body.
Roll between 40-50 diapers into rolls and secure them with rubber bands.
Stand the diaper rolls on end and sit onto the tape already on the body of the guitar.
Once the body has been covered with diapers, cut a length of tissue paper, and roll to the height of the diapers.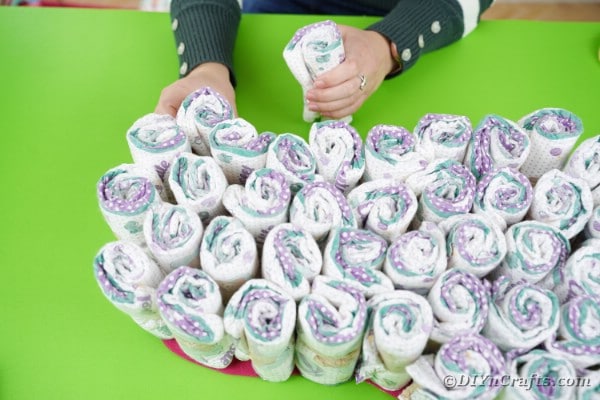 Wrap this tissue paper around the diapers and secure with staples so that it holds the diapers in place.
Add a rubber band around the diaper guitar and move it to hold in the curve of the guitar to look more natural.
Add double-sided tape to the back of the guitar neck made earlier, and attach to the base of the guitar about halfway up the diapers so the top hangs over the top of the diaper and has the two diapers on top with the rattle end over the diapers.
Similar Projects: Recycled Toilet Paper Roll Pumpkin Decoration
Add additional decorations and wrap to gift!
More Fun Baby Shower Gift Ideas
There are tons of amazing ideas for baby shower gifts that I have shared here before and know you will adore! The list below includes a few of my favorites and some further lists to give you inspiration for creating the most unique gifts for your friends and family.
Crafting Tips

When working with diapers, it is important to be very careful about what you use to secure them. In this instance, I used a removable double sided tape that allows you to remove the diapers without tearing or breaking down the exterior. Always look for the word "removable" when purchasing tape for a project like this.
Yield: 1
Follow this easy tutorial for making your own guitar diaper cake baby gift! An adorable easy and budget-friendly choice for gifting to any new parent!
Active Time
30 minutes
Total Time
30 minutes
Materials
Similar Projects: Easy Handprint Hedgehog Preschool Kids' Craft
Notes
Use any additional decorations and embellishments preferred to customize the look of your guitar.
Similar Projects: How to Make a Decorative Hanging Shelf
Recommended Products
As an Amazon Associate and member of other affiliate programs, I earn from qualifying purchases.
Finished Project Gallery
Customize your guitar diaper cake with different colors of paper and ribbons for different genders or themes.
Use rolled washcloths, blankets, or onesies in place of the diapers on the top of the guitar.
Customize by wrapping with blankets or fabric instead of tissue paper.
More Details