Sep 5, 2022
The Perfect Small Lamp for a Bookshelf or Countertop
This Post May Contain Affiliate Links. Please Read Our Disclosure Policy here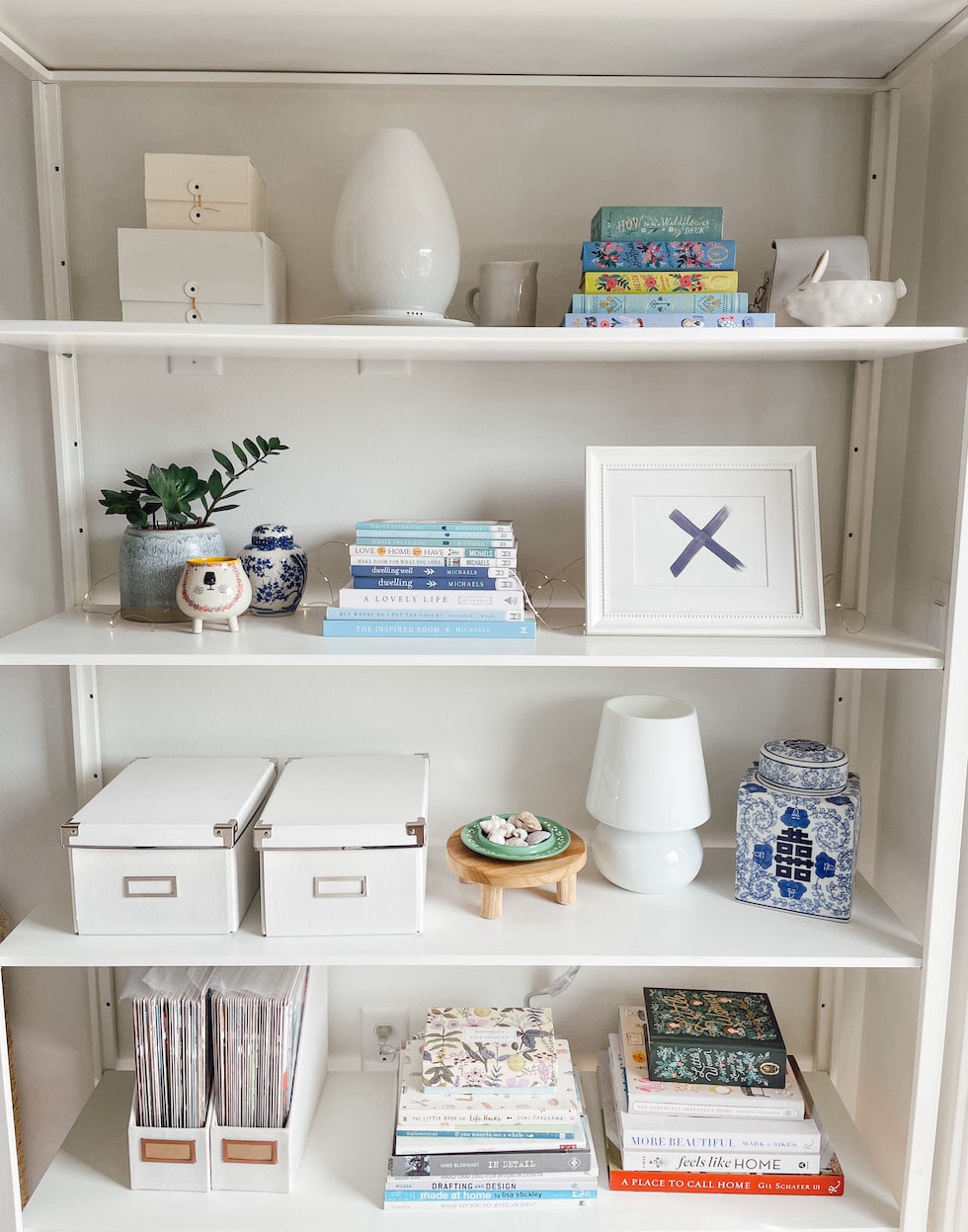 A small lamp for a bookshelf or countertop can add light to a dreamy spot. This mini opal glass lamp is a perfect size and solution for a small space. And it's so pretty, too. Get this color changing dimmable lightbulb for it and you'll thank me later!
Hello, friends…it's Courtney here today! I have been slowly but surely getting settled into my new apartment (with my now *husband*)! You may have seen peeks of our July wedding on my Instagram and my mom's–once we receive the rest of our professional photos I have lots to share here about the wedding day and planning advice. But for today, I'm here to share a great decor find that I hope will help you too!
Are you looking for a small lamp for a bookshelf or countertop?
We were on the hunt for a mini lamp for our living room bookshelf. It was a dark and dreamy corner that needed some warm lighting in the evenings, but it was surprisingly difficult to find a lamp short enough that it could fit on the shelf without crowding the top.
I finally found this mini opal glass lamp that was the perfect size (only 10 inches tall).
The lamp just arrived today and I loved it so much, I had to show it to you! It's the prettiest mouth blown glass that looks almost like milk glass. It's a really solid quality lamp. If you have a little spot in your home that could benefit from a small lamp, I highly recommend trying this one.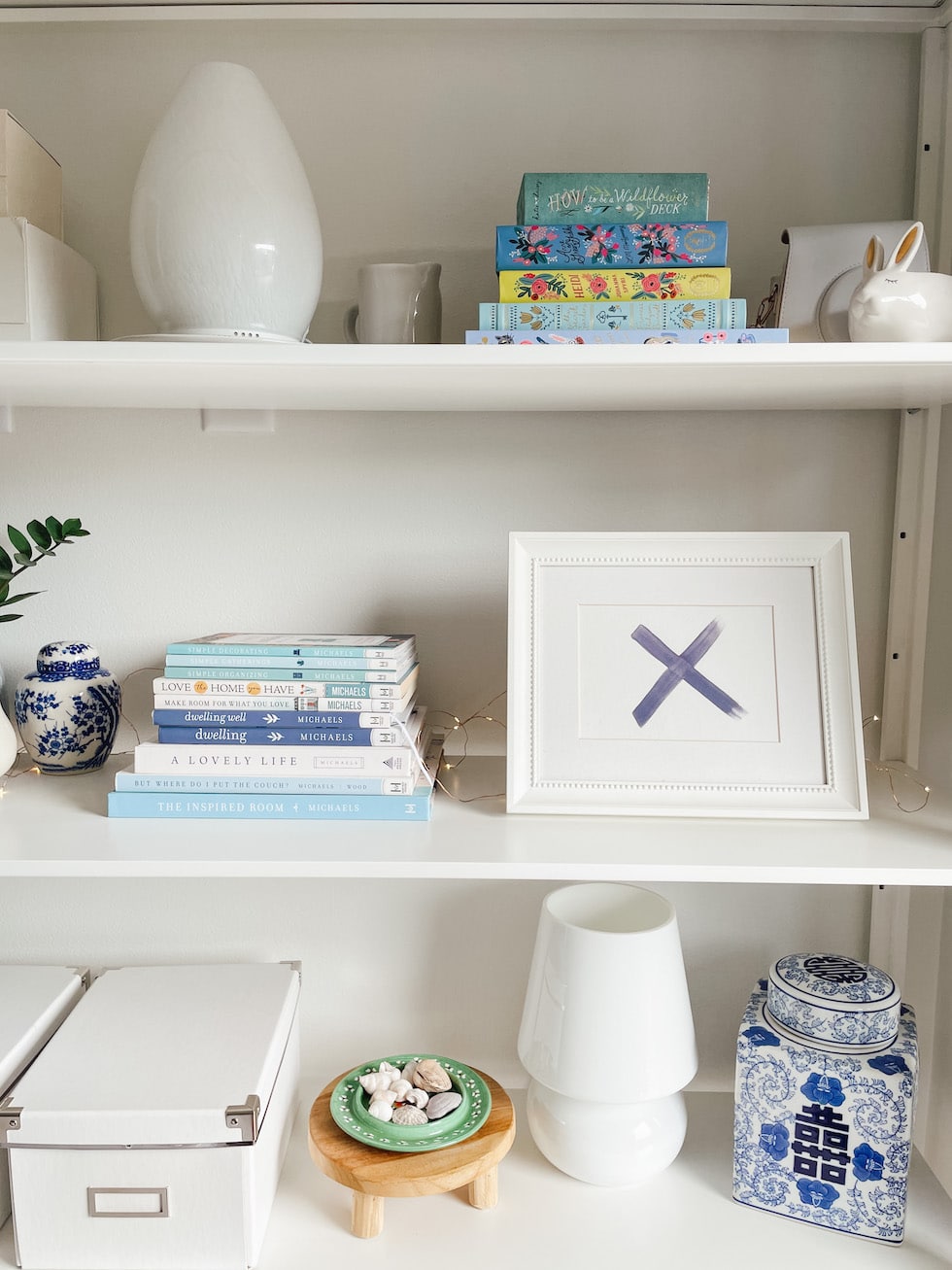 I had found other mini lamps online that were on the shorter side, but most still would have been too tall once a lampshade was added. I almost gave up in my search until I found a perfect small lamp for a bookshelf or countertop!
You might have seen we have this very similar mini glass lamp (it's only 8.26 inches tall if you need one even shorter!). We love it but we're using that one on another bookshelf in the apartment, so I was thrilled to find something similar. You can see that lamp and even more mini lamps and accent lamps in this post.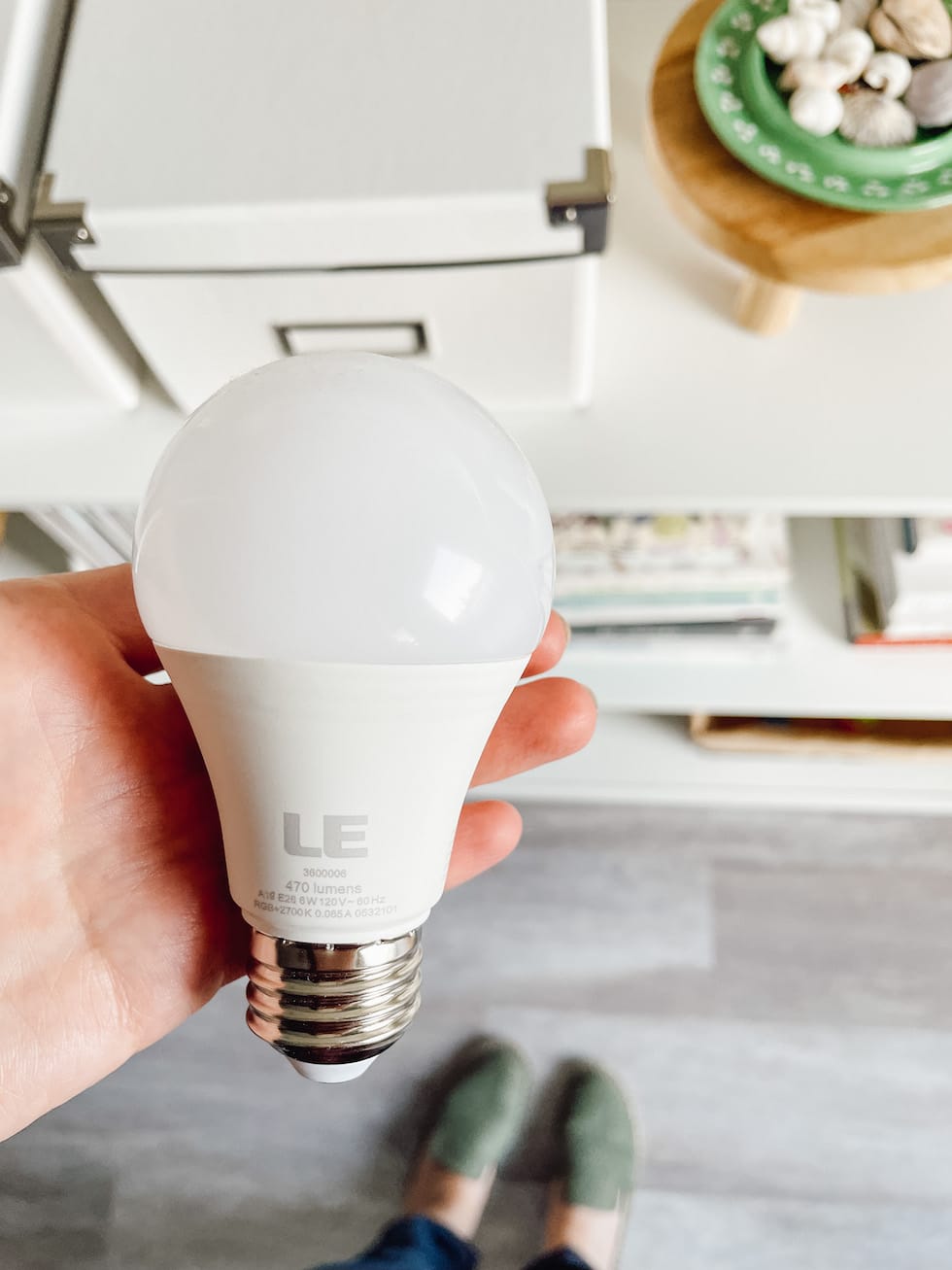 Try a Color Changing Lightbulb
Here's a tip for this lamp that is extra fun! First let me say that I LOVE how it looks when it's switched off. Such a pretty milk glass look, like a little work of art on the shelf.. But I put in this fun color changing dimmable lightbulb that you can use with a remote so that I can control the brightness and warmth of the light (instead of having it be too cool toned since the shade is white).
You can also use that lightbulb to make the shade appear as a different color, which also adds a pretty glow to the space. I'll show you a few photos of it in action!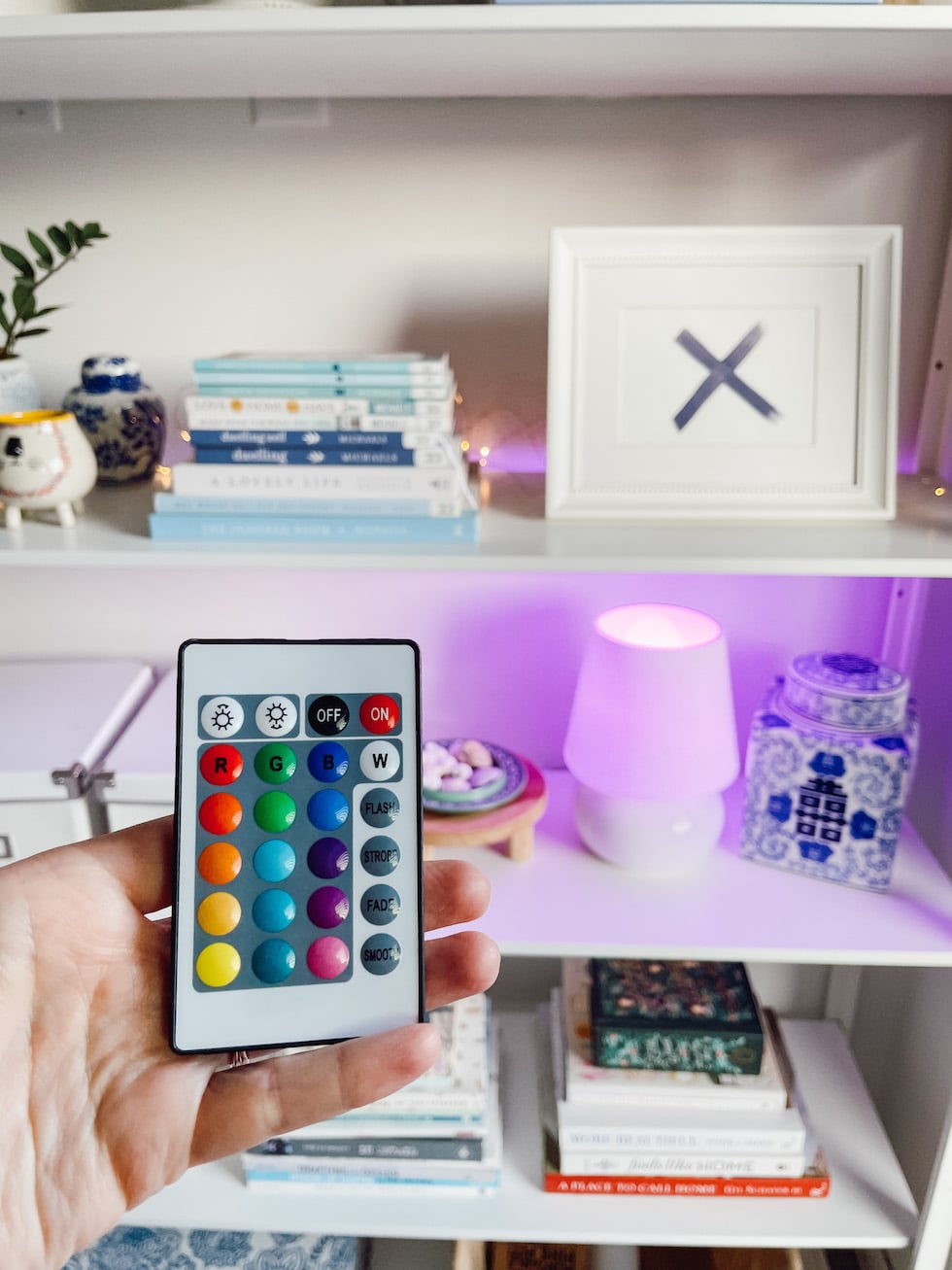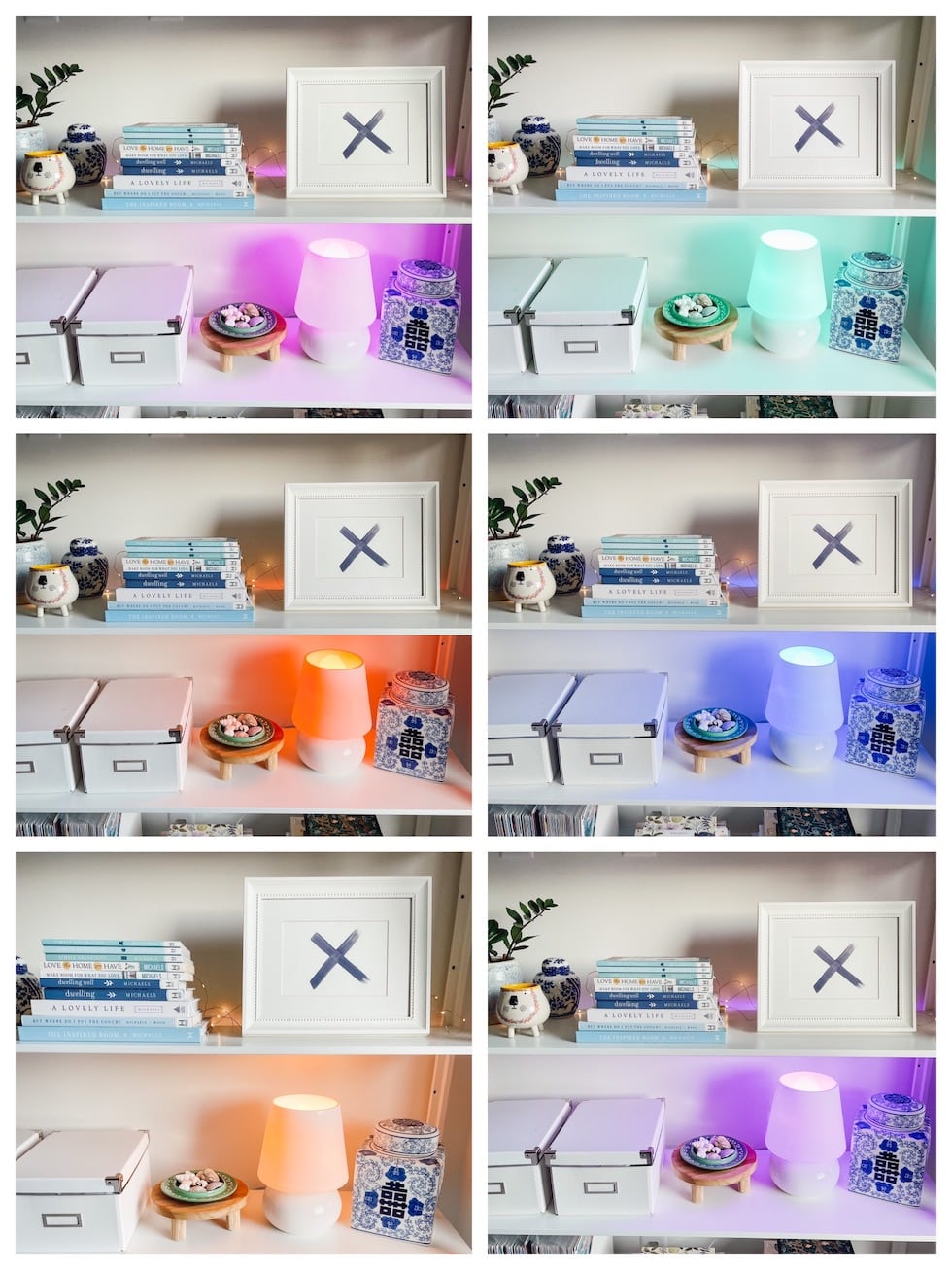 I mean, is that not the neatest thing? There are even settings for the lightbulb like 'strobe' or 'smooth' that change between colors automatically if you want something extra fun!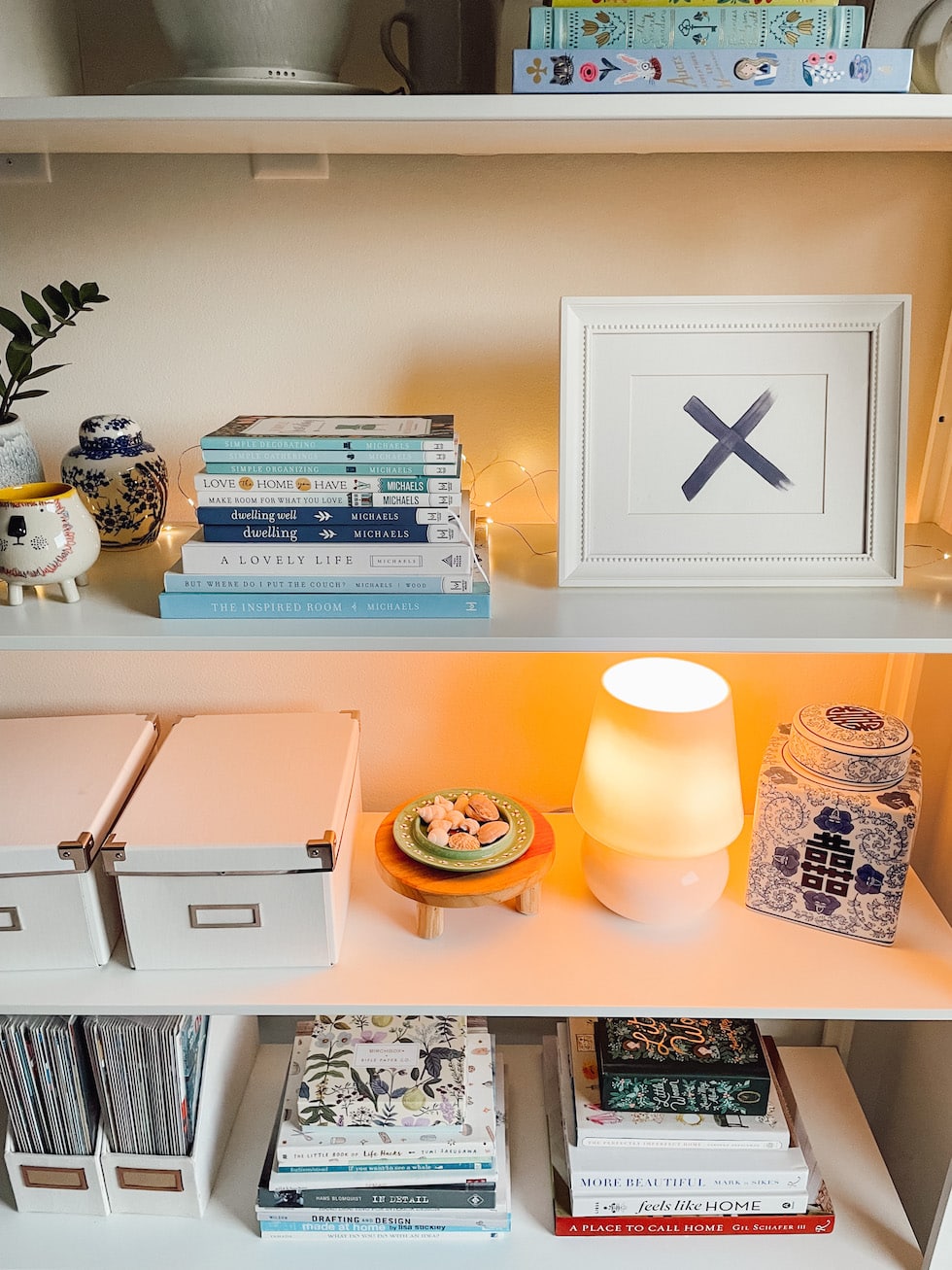 The shade for the glass lamp is so pretty in white, but it's really fun to switch the colors to suit your decor or mood at night. I usually set mine to the yellow color–I love the warm orange glow it gives off.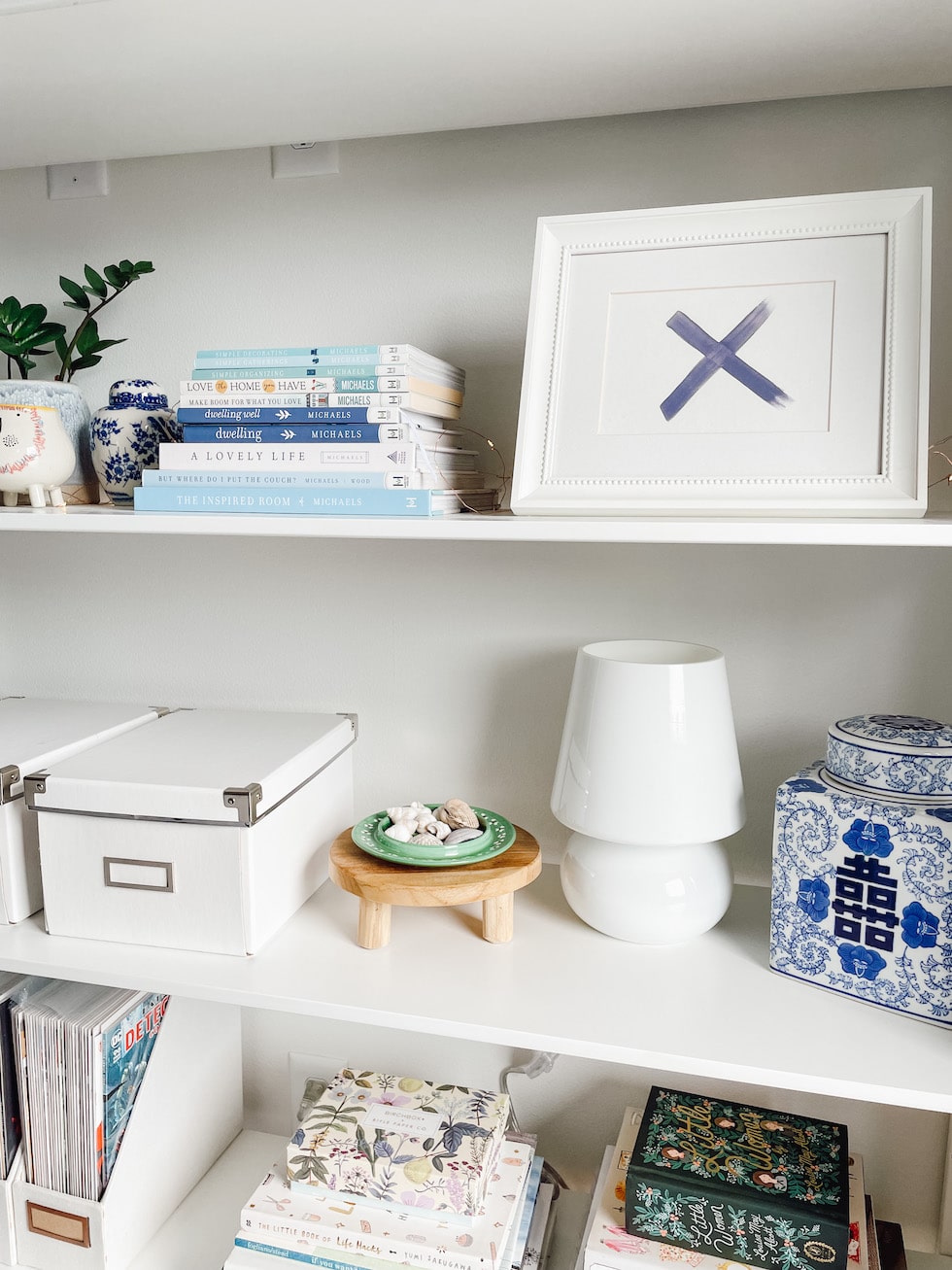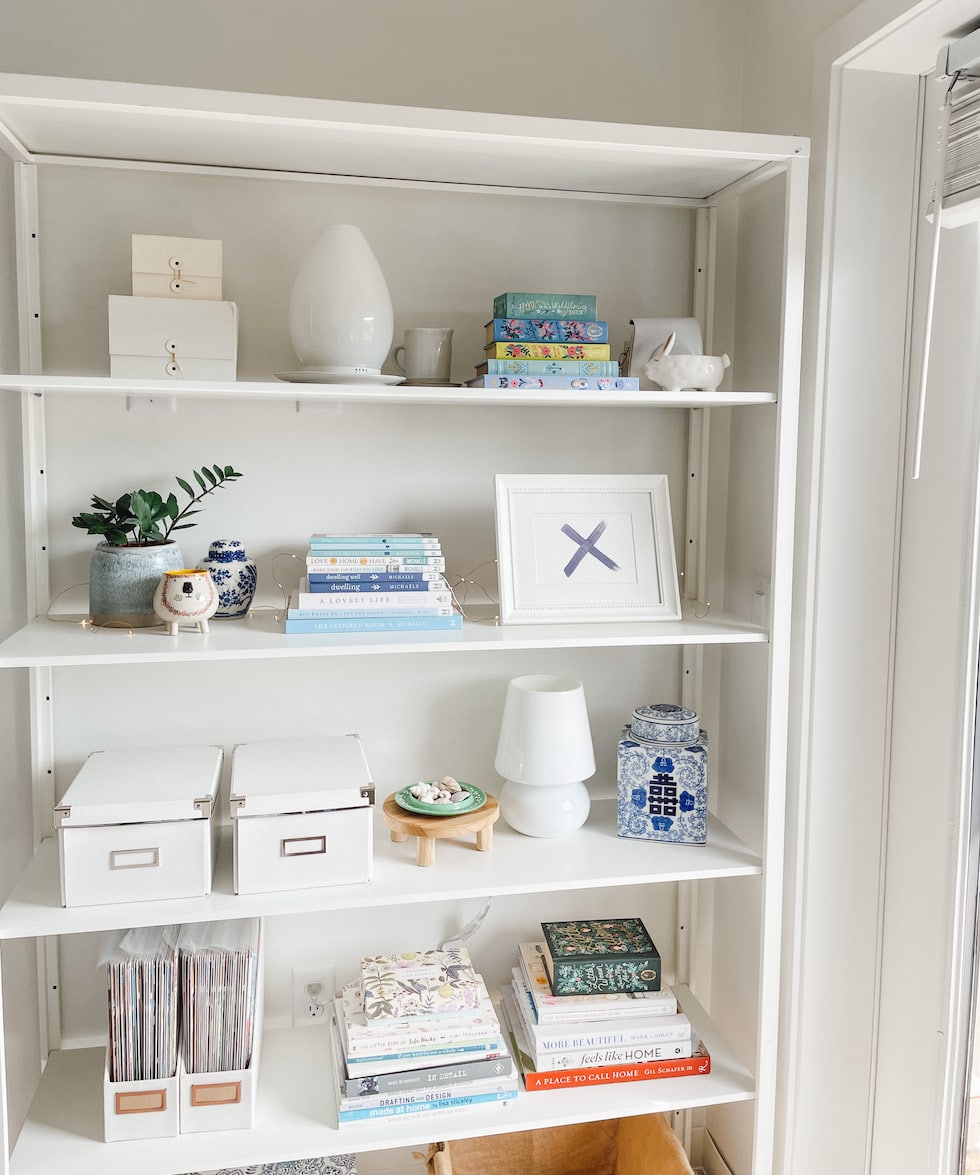 I love how well the lamp coordinates with my hand blown glass diffuser on the top shelf, too. An unplanned but happy accident!
Hopefully that helps if you too could use a little lamp for your home! 🙂
Want more tips for how to decorate small spaces?
We LOVE sharing ideas for small spaces here on The Inspired Room. You don't have to have a large home to make it stylish and comfortable. Find lots of inspiration for small homes here.
You can find more of my favorite decorating sources here, and I've linked a few of my apartment tours below if you need some inspiration for your rental or small space!
More Small Space Posts and Tours:
5 Clever Ways to Make a Small Space Cozy and Inviting (+ my live video replay sharing tips from my apartment!)
Tour My 500 Square Foot One Bedroom Apartment
Tour My Seattle Studio Apartment
Tour My Basement Apartment
Tour My Tiny Bedroom Tour
Small Apartment Bedroom
Small Space Storage Tips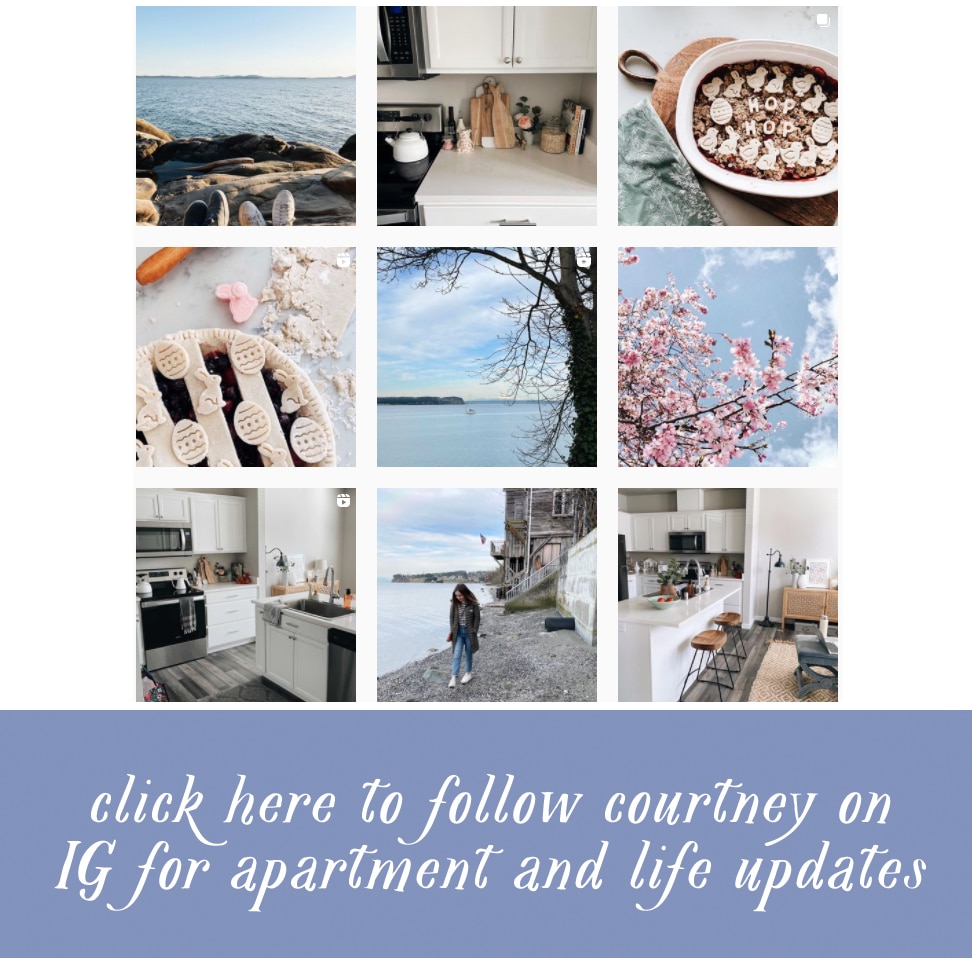 You can also follow me on Instagram here (@courtneylane1). I love sharing my apartment, life, pretty walks in my neighborhood by the water, details of our wedding, behind the scenes of working with The Inspired Room and more!
More Details